P+R works closely with designers, companies, individual buyers who are just starting their collection as well as, experienced collectors to find the perfect piece(s) of art. We source art not only through our gallery, On Center Gallery, but also from other dealers through-out the US and unrepresented artists that meet the needs of a specific project.
With our combined experience P+R Fine Art Consulting specializes in developing unique and appropriate collections of art that match the vision and character of our clients and their projects. As a full-service company, we will coordinate and oversee all aspects of your art program from commissioning and purchasing works of art to framing, crating, shipping, delivery and installation.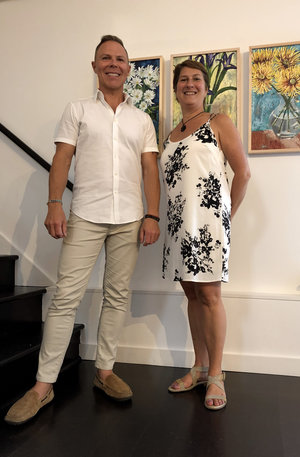 Jill Rothenberg-Simmons spent many years in the design industry where she began working as an Interior Designer and concluding her career as the Managing Leader of prominent Boston design firm. After a successful 30-year career she now focuses her energy on her creative pursuits and helping others fill their homes and businesses with art.
She holds a BFA from Alfred University in Ceramics and studied Interior Design at the Boston Architecture Center. She loves working with artists and helping to promote their work. Jill thrives by being immersed with the art world, whether in the gallery or at her studio
Scot Presley has nearly 20 years of experience in fine art as both a dealer and consultant. Working with clients across the nation and developing strong relationships with artists and galleries around the world has given him the experience to provide an individualized approach for our clients.
Scot is a community leader in his home town of Dallas and serves on the board of directors for a large non-profit organization as well as being a member of many established arts foundations.